Grilled Turkey Burgers + Smoky Aioli and Corn Salsa
It's been so dreary and wet here for the past few weeks. I'm glad to have a bright green lawn, but I'm seriously tired of rain. And frizzy hair. And puddles that my little one likes to sit in. At least I potty trained my 2-year-old during our homebound days. (We're still working on it.) That made the rain seem bearable.
Using a stove-top grill pan enables you to have summertime eats during the most dismal winter days. I like this one. I use it all the time. I think I've mentioned several times how much I love it. I still do.
Might I draw your attention to these extra slim buns? Has anyone else tried these? We really, really like them. Extra thick buns seems to detract from what's inside. And I don't like feeling like I've eaten a loaf of bread. P.S. "Arnold" didn't pay me to tell you they're great. They have no idea who I am. Besides, I wouldn't tell you something was great unless I really thought so myself.
These burgers were awesome. I like the versatility of ground turkey. You can make it taste like anything you want. They tend to be a little dry sometimes, so be sure not to overcook them. Some of the aioli that goes on top of the burger is also incorporated into the meat, giving it even more flavor and moisture. It's also topped with grilled veggies. Your grill will definitely earn its keep with these recipes.
By the way, "aioli" is basically flavored mayo. Sometimes I substitute sour cream or plain yogurt for mayo because mayo isn't my best friend.
The smoky corn salsa rocks. I'm so glad we had a bunch leftover. I used it in quesadillas (big surprise), scrambled eggs, burritos, and whatever else I could find an excuse to put it on.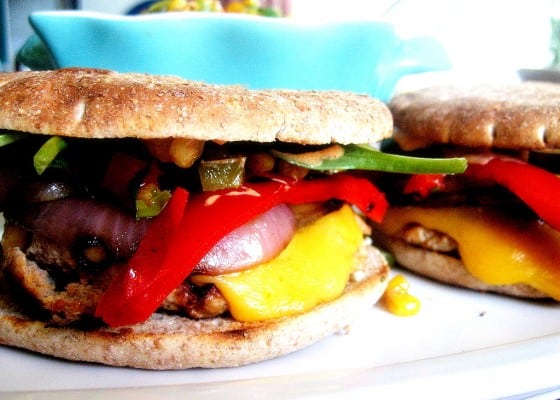 Grilled Turkey Burgers with Cheddar and Smoky Aioli

Ingredients:

for the aioli:
1/4 tsp ground cumin
1/4 tsp ground coriander
1/2 cup mayonnaise (or plain yogurt)
2 tablespoons extra-virgin olive oil plus additional for brushing
2 teaspoons fresh lemon juice
1 1/2 teaspoons smoked paprika
1 garlic clove, pressed

for the burgers:
1 pound ground dark-meat turkey
4 1/3-inch-thick red onion slices
1 large or 2 small red bell peppers, quartered
4 slices white cheddar cheese or Monterey Jack cheese
4 sesame-seed hamburger buns
Arugula or fresh baby spinach
Corn chips

for the Smoky Corn Salsa:
2 red bell peppers, quartered, seeded
3 ears of fresh corn, husked (about 2 cups)
1 bunch green onions, trimmed
4 tablespoons (about) olive oil, divided
2 garlic cloves, minced
1 teaspoon ground cumin
2 tablespoons fresh lime juice
1 tablespoon bottled chipotle hot sauce
2/3 cup chopped fresh cilantro

Directions:

To make the aioli:
Whisk aioli ingredients together in small bowl. Season aioli to taste with salt and pepper.Aioli can be made 1 day ahead. Cover and refrigerate.

To make the burgers:
Place turkey in medium bowl. Add 2 tablespoons aioli; mix gently. (Avoid squeezing the meat between your fingers.) Using damp hands, divide turkey mixture into 4 equal portions, then form each into scant 3/4-inch-thick patty, about 3 1/2 inches in diameter. Using thumb, make small indentation in center of each burger. Can be made 4 hours ahead. Cover and chill.

Prepare barbecue (medium-high heat). Sprinkle burgers with salt and pepper. Brush onion slices and bell pepper pieces with oil; sprinkle with salt and pepper. Grill onions and bell peppers until soft and charred, about 4 minutes per side.

Grill turkey burgers 5 minutes. Turn over; grill until almost cooked through, about 4 minutes. Top each burger with 1 cheese slice and grill until meat is cooked through and cheese melts, about 1 minute longer. Place 1 turkey burger on each of 4 bun bottoms. Arrange grilled red pepper pieces, then grilled red onion slices over. Top each with dollop of aioli and some arugula. Cover burgers with bun tops and serve with pickle wedges and corn chips.

To make the Smoky Corn Salsa:
Prepare barbecue (high heat). Brush bell peppers, corn, and green onions with olive oil. Grill vegetables until well charred in spots, turning occasionally with tongs and removing pieces as they brown, 5 minutes for green onions, 10 to 15 minutes for bell peppers and corn. Cool slightly. Dice bell peppers and green onions. Cut corn off cob.

Heat 2 tablespoons oil in heavy small skillet over medium-high heat. Add garlic and cumin; sauté until garlic begins to sizzle but does not brown, about 30 seconds. Pour into large bowl; mix in lime juice and hot sauce. Mix in vegetables. Season to taste with salt and pepper. Cool completely; mix in cilantro.

Makes about 4 cups.

Nat's Notes:
1. If corn on the cob isn't in season, simply saute frozen corn in a skillet over medium-high heat with some olive oil until it gets browned in spots.

adapted from Bon Appetit August 2009