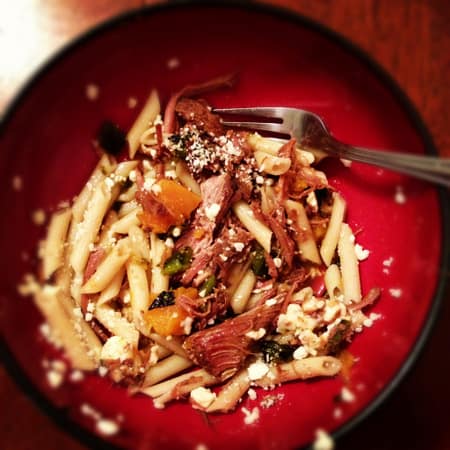 One day I threw some stuff into the slow cooker for dinner, including some butternut squash, grilled poblano pepper, and some leftover slow cooked pot roast.
I admit, I wondered if that was even allowed — cooking meat in the slow cooker twice. I was afraid it might disintegrate or something.
It ended well. Really well. I threw that photo up there on Instagram and Facebook and got a lot of requests for the recipe.
I felt like I needed a proper photo for the post, though, so I took one the next day with the small amount leftover.
Shredded Romano cheese was thrown on top, and didn't realize until later that it looked like my tender, succulent, flavorful stew had begun to grow white hair.
*sigh*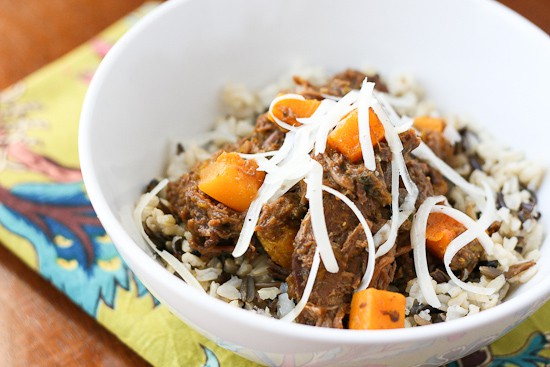 I'm anticipating a couple of questions. Here are a couple of answers:
1. No, I don't think it matters how your pot roast was cooked or how it was seasoned the first time around. I would stray from very strong Asian flavors, though, because it might not jive with the spices you add the second time.
and
2. Yes, you could put uncooked roast into the slow cooker with all of this stuff, but I think the flavor would be lacking. Part of the reason this tastes so great is because the meat has been seasoned twice!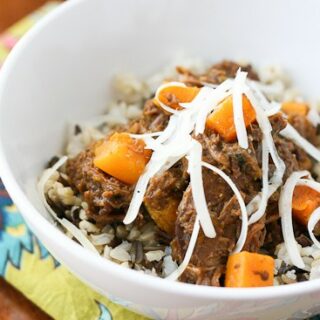 Slow Cooked (Leftover) Pot Roast with Butternut Squash and Poblanos
Leftover pot roast finds a new home in a slow-cooked tex-mex stew!
Ingredients
4-5 cups leftover beef roast & juice, cut into large chunks or shreds
3 cups cubed butternut squash (about 1/2 of a medium squash)
3 poblano peppers, grilled/broiled, peeled, seeded, and diced
2 teaspoons chili powder
1 teaspoon ground coriander
1/2 teaspoon ground cumin
1/4 teaspoon cayenne pepper (or more if you want it spicier)
Instructions
Combine everything into a slow cooker (I used my 4 quart), and cook on low for 4-5 hours or high for 2-3 hours.
Serve over rice, pasta, potatoes, quinoa, or with crusty bread. Sprinkle with some cheese, if desired. (Cotija and Romano cheese were very good!)