Island Glazed Pineapple and Shredded Chicken Sandwiches + Saucy Mama Giveaway!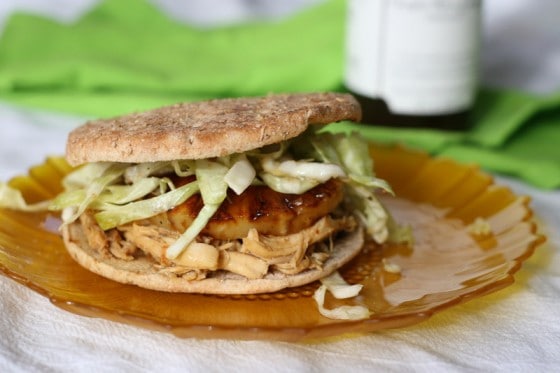 I'm excited to be one of the 50 bloggers competing in another Saucy Mama recipe contest! This year's theme is "Fabulous with Five" – limiting us to five ingredients. This was hard for me, as I usually throw a little of this and that in whatever I make until it's "just so" and end up with a dozen ingredients. The recipes I made for last year's contest are still some of our favorites: Itty Bitty Burgers, Peppery Salmon Potstickers, and Spicy Buffalo Chickpea Salad.
For this year I created a shredded chicken and grilled pineapple sandwich using Saucy Mama's Pacific Rim Ginger Dressing. I even used the leftover pineapple juice to make some sweet(ish) slaw. Vegetables in every meal!
In conjunction with the recipe contest, Saucy Mama is giving away a sample package of a few of their products:
Your bottles will be full and unopened, I promise. :)