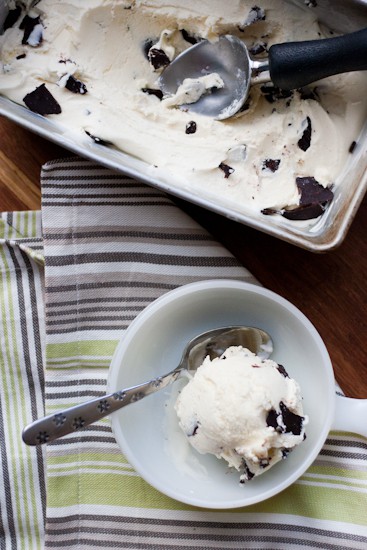 Today is one of the first days in a while that I didn't feel like curling up next to my two-year-old and taking an afternoon nap with her.
For the record, I'm not usually a napper.
That's how tired I've been lately!
And my appetite is still "meh" but I'm always in the mood to eat things that aren't so great for me.
I'm not even going admit how many containers of gelato I've eaten in the last couple of months. Mostly because I don't know. But it was a lot. (Talenti Sea Salt Caramel is definitely my favorite so far.)
Since frozen creamy things top my list of Things I Feel Like Eating, I was super happy to get this gem in the mail to review.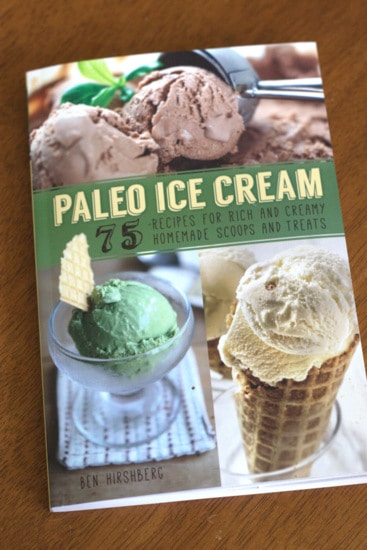 Paleo Ice Cream by Ben Hirshberg is my favorite lately. I've made the mint chip twice and tried the chocolate cayenne as well.
What I love about this book is that it gives you options and encourages you to tinker around and create your own flavor combinations. There are variations for paleo, primal, and vegan ice creams.
The author does suggest using xantham gum to help with the consistency. I tried it with and without and didn't notice a difference right after churning or even after a few days in the fridge.
Xantham gum isn't technically paleo, so if it bothers you, leave it out! It should really only make a difference if you plan on storing it in the fridge for a few weeks.
Also, the recipes make small batches (which can easily be doubled). My little family of five can eat a whole batch in one sitting.
Without being piggies, that is.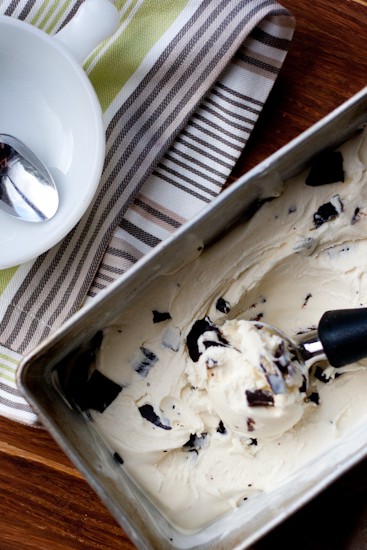 In the recipe below I used half coconut milk and half organic heavy cream. I didn't want a strong coconut flavor, and I'm OK with using cream once in a while.
I can't tell you how amazed I was at the texture! Having to temper egg yolks is a little fussy (but not hard!), but it makes a huge difference in the texture — especially if you aren't using any heavy cream! And it even stayed creamy after being in the fridge for a few days!
I also included the recipe for the chocolate "chips" and the chocolate cayenne variation! Enjoy!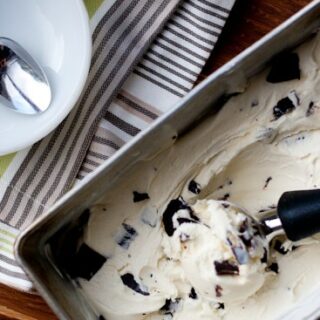 Primal or Paleo Mint Chip Ice Cream
This naturally-sweetened Primal Mint Chip Ice Cream is fresh and minty and has homemade dark chocolate shards! (It's easy, too!)
Ingredients
1 cup coconut cream (or full-fat milk)
1 cup organic heavy cream
5 Tablespoons raw honey
3-4 drops peppermint essential oil (or 1 teaspoon peppermint extract)
3 egg yolks
1/3 cup dark chocolate mini chips (or make your own! Recipe in the notes section)
Instructions
Combine the coconut cream (or milk), cream, honey, and peppermint in a medium saucepan. Heat over medium-low heat and stir continuously until the mixture thickens slightly, about 8 minutes. Do not allow it to boil.
Whisk the egg yolks in a small bowl. Slowly a ladle of the warm cream mixture to the eggs while stirring. Then slowly pour the small bowl of egg/cream mixture back into the pot on the stove, stirring constantly. Don't pour too quickly or you may end up with scrambled egg yolks!
Remove the pot from the heat. Cover and refrigerate until completely chilled (several hours or overnight).
Freeze the mixture in your ice cream maker according to the manufacturer's instructions.
When the mixture has churned completely, add in the chocolate chips and let it church for about 10 more seconds to incorporate them.
If you don't plan on eating the ice cream right away, transfer it immediately to a freezer-proof container, cover, and freeze up to a week. Placing a layer of plastic wrap on the surface of the ice cream helps to keep it fresh.
Notes
Notes:
To make your own chocolate pieces, melt 1/4 cup coconut oil in a small saucepan over low heat. Once melted, add a pinch of salt, 1/2 cup unsweetened cocoa , 1/2 teaspoon vanilla extract, and 1-2 Tablespoons of honey (to taste). Stir until completely smooth, about 30 seconds. Be careful not to let the chocolate mixture scorch. Remove from heat. Line a rimmed baking sheet with wax paper and spread the chocolate out in a smooth layer. Let it sit in the fridge or freezer until firm. Once fully chilled, break it up into small pieces. Store them in an airtight container in the fridge so they don't melt. This recipe made enough chocolate pieces for four batches of ice cream!
Cayenne Chocolate Ice Cream variation: Follow the recipe above, but omit the peppermint and add 1/4 cup unsweetened cocoa powder and 1/4 teaspoon of cayenne pepper during step one. I added some chocolate pieces to mine, which was fabulous!